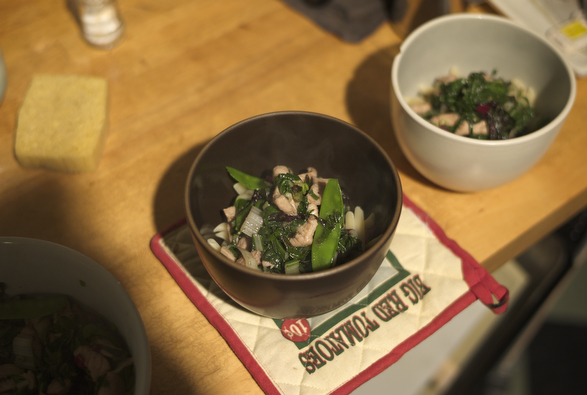 Before and After: The fifteen minute meal. If you have extra time, brine the pork first. Sometimes we measure, but usually we don't. Mix some salt and about twice as much sugar in a bowl of water. Some = 4-5 tablespoons or so, for about 1 pound of pork. Let marinate for an hour, but if that's not possible, as long as you can. It's not so important how you brine, it's the fact that you do.
Start noodle water. Wash swiss chard and cut into strips. We also have a few loose snow peas from the garden in the bowl. Mince some ginger, wash and chop scallions and save in a separate bowl. Cut pork into strips, and add soy sauce (1 tablespoon Kimlan super special soy sauce), sesame oil (1 tablespoon), minced ginger, sugar (about half tablespoon), hot pot sauce (Ning Chi), and roasted garlic (if you have leftovers from making sourdough).
When water boils, add noodles and heat up the wok. Our noodles (Rustichella d'Abruzzo's trennette) take 7 minutes and our wok heats up fast. Cook pork first until just slightly pink. If you're lazy, just add the veggies and toss. The marinade for the pork will cook the chard, which does not need a lot of oil to cook. When the chard starts to soften add some sherry. Cook for about 30 seconds more, adding the scallions at the very end.
Drain noodles and mix with pork. YUM! The bowls are made by Heath Ceramics; we don't know why the sponge is there.