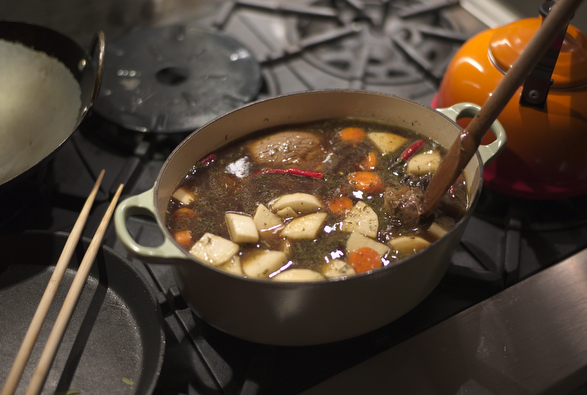 Use the good stuff: Lindner Grassfed Bison short ribs, daikon, and carrot stew. The bison and the veggies are from the Hollywood Farmer's Market; the sugar, maple syrup, and chicken broth are organic.
For 2 pounds of ribs, we put in some ginger (six big slices), garlic (6 big cloves), soy sauce (Kimlan super special soy sauce – about half cup to 3/4 cup), brown sugar (2 heaping spoonfuls), maple syrup (1 spoonful), thyme (a tablespoon), star anise (one complete whole, if you can get them whole, or the equivalent in pieces), sichuan peppercorns (a heaping tablespoon), chili peppers (4-5 depending on your tolerance for heat), cooking wine (Bai He Cooking Michiu, it says "Not for sale or use as a beverage" – half cup), chicken broth (plus maybe some water to cover everything), and salt (a few good shakes). You could also add scallions and cilantro, but we were out. First we browned the ribs in olive oil, with the garlic. Lightly, because you don't want to bring too much heat to bison. Then we added everything else into a Shamrock-Shake green Le Creuset cast iron oval oven, brought it to a boil, and turned the heat to simmer for about 4 hours.

The amazing thing about the bison is that it's low scum, high flavor. Get it to boil and you only need to skim a couple islands of foam off the top. The next morning, the layer of fat that sits on top is not the usual glacier of fat from stewing beef, but a few floaters that you can take out if you want, or leave in for fun.
Our vegetarian friend couldn't resist. Though he only had the carrots and daikon, he claimed it tasted like French Onion Soup. Today, it's lunch with bison short ribs and Iron Man Chinese noodles!